NkPlan (nkPlan.dll, 64kb)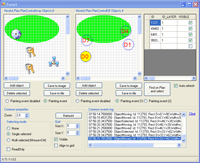 NkPlan contains a collection of .NET framework (2.0) managed controls written in C#. The collection allows developers to create high-quality applications with a cool design.


The package contains PlanControl, PlanControlArray, PlanControlDB components.

The components are intended for displaying and editing (change position, addition by mouse or program ...) in some scaled, scrolled windows various graphic objects (like pictures...).
Objects can be selected, multi-selected, invisible, disabled, moved, sorted (z-order),
painted in any Graphics... Users handling support for a lot of events: mouse events,
window painting (after and before), objects painting (after and before), moving events...
Layers support. Grids support. Search and position support. Export to any graphic formats.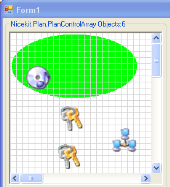 Component PlanControl.
Scaled, scrolled window with background image and grid.

Component PlanControlArray:PlanControl.
The objects are stored in layers (groups). All objects
are derived from PlanObject.

Component PlanControlDb:PlanControl.
The objects are stored in DataSet with defined tables containing layers and objects.
You can change tables in design time...