Time Boss
, Computer time limiting software
You benefit from the widest range of adjustable restriction and monitoring tools, flexible settings, user-friendly multilingual interface and complete unbeatable safety.

This computer time limiting and controlling software works smoothly, is stable and friendly to all other programs, including antivirus software and antispyware!

The default Time Boss password is 123.

(1.7 Mb. v3.33, 16.06.2021)


Please try our Computer time limiting software, Time Boss!
---
Time Boss PRO, Computer time control,
network edition!
With this software You get the opportunity to administrate the usage of any computer by any user in your local network from a remote PC!
Time Boss PRO gives you the full control of the remote Time Boss control panel. If you want to administrate Time Boss PRO on kid's computer from internet you can use the small freeware program Time Boss Cloud for Windows or Android.
All Time Boss features are included.

(1.7 Mb. v3.33, 16.06.2021)

You need only ONE registration for up to THREE PCs at your home!


Please try our Computer time control software Time Boss PRO!
---
Time Boss parental control
for Android
Time Boss for Android devices has multi-user support, event log, grants, filter of bad words for blocking adult content in websites and apps, Android system settings protection, self-protection against removal by children, configurable warnings, stop messages for children and others.
It supports 'Black or White lists' of apps and websites with time limitations.

Time Boss works without a permanent connection to the Internet.
No root rights are required.
No registration is required on our website.
No access to personal data (phone number, addresses ...) is required.
Time Boss does not send any data via Internet (if Time Boss Cloud is not used).
All settings and program logs are stored on the mobile phone (device). If the synchronization via TBC is active, then Time Boss only sends time limits and grants via Internet.
The default Time Boss password is 123.



(2.4 Mb. v2.23, 17.04.2021)
Before updating of program from the app store (Google Play) please stop the program (using red button) if the program works then start the program again (green button).

To activate protection from uninstalling the program in the app store (Google Play) it is necessary to give Time Boss special Accessibility rights. These rights are also needed for self protection after reboot of device and for using content filter of bad words and internet monitor.
Set the 'Hard' level of termination in settings and activate the content filter if your teen is geek in Android. Also activate the option 'Hide TB icon on home screen'.

For Xiaomi devices check that Time Boss is given permission to autostart.

If necessary, you can download the latest version of timeboss.apk from our website.

If you want to administrate Time Boss on kid's Android devices via internet you can use the small freeware program Time Boss Cloud for Windows or Android.
SnapaShot
, free screen capture software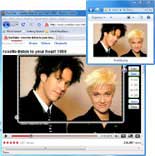 Tiny free tool for taking screenshots of an adjustable size. Just open Snapa, adjust the window to fit the area you want to take the screenshot of, and press "Save" button.

Download SnapaShot:


(0.25 Mb. v4.1, 28.05.2019)

SnapaShot PRO allows you to manage the quality, brightness, contrast of your screenshots and to manually adjust the size. You can also add borders, watermarks, frames, lines, arrows, pictures, notes and text to your screenshots.

Download SnapaShot PRO:


(0.8 Mb. v4.1.4, 25.02.2020)
SnapaShot screen capture software full-feature page »
---
AniReminder Pro
, handy reminder
Handy and easy-to-use reminder. AniReminder Pro helps you to keep track of your upcoming events via pop-up animated window reminders.




(1.2 Mb. v2.28, 24.07.2019)
---
EasyNetMonitor
, free network monitor
EasyNetMonitor is a tiny and simple to use tool for testing and controlling, whether remote PC or other internet host is reachable across a network.
Just open EasyNetMonitor icon in tray and get the info about the computers' activity in your local network. EasyNetMonitor is a portable tool. So, there is no need to install the software - download and use it right away.

(0.3 Mb. v3.00, 09.10.2020)
EasyNetMonitor full-feature page »
---
NkTimeTracker
, easy time tracking program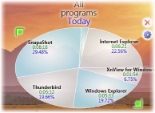 NkTimeTracker is a simple and handy time tracking program. Made for business (as a Pro version) as well as for personal use.

(0.6 Mb. v3.08, 02.03.2020)